Murphy Crosby's Biology Project
For educational purposes only.
No Porn found here!






DNA





What is DNA?
-DNA is a macromolecule made of monomers called nucleotides.A DNA molecule resembles a twisted ladder. A sugar-phosphate backbone forms the sides of the ladder. The phosphate group of one nucleotide is covalently bonded to a hydoxyl group on the sugar of the next. Hydrogen bonding between bases creates the rungs of the ladder. Each strand has a free phosphate group at the 5' end and a free hydroxyl group at the 3' end. The numbers refer to the carbons in the sugar part of each nucleotide.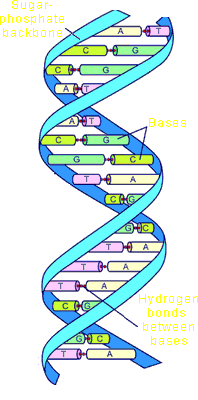 Transcription - The first stage of gene expression in which the RNA polymerase enzyme synthesizes an mRNA molecule whose sequence is complementary to the DNA.
Translation - The second stage of gene expression in which a ribosome assembles a polypeptide, using the mRNA to specify the amino acids.



DNA GAME

DNA
Sequence
5'

3'

_

3'

T

A

C

A

A

T

G

G

C

T

A

G

A

T

C

5'
Find the RNA
*Remember the base Uracil replaces Thymine in RNA

RNA
Sequence
5'

3'

_

3'

A

U

G

U

U

A

C

C

G

A

U

C

U

A

G

5'